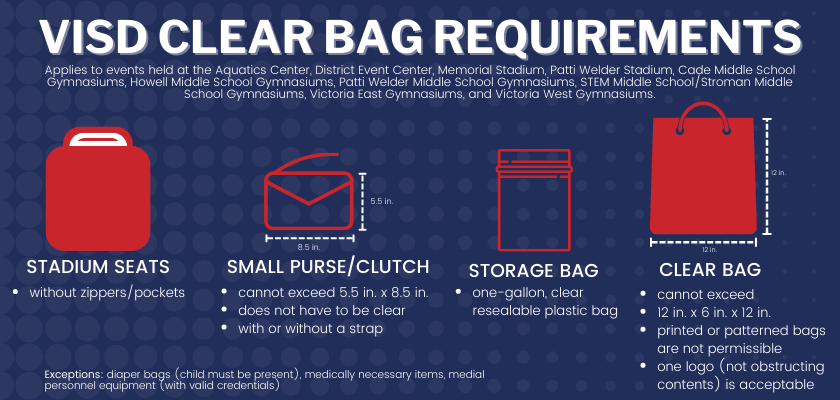 VISD Clear Bag Procedures for event spectators went into effect during the 2019-2020 school year. This is in accordance with our continued efforts and commitment to improving safety standards for our students, parents, and community while enjoying athletic events.
The VISD Clear Bag Procedure only applies to events held at the Aquatics Center, District Event Center, Memorial Stadium, Patti Welder Stadium, Cade Middle School Gymnasiums, Howell Middle School Gymnasiums, Patti Welder Middle School Gymnasiums, STEM Middle School Academy/Stroman Middle School Gymnasiums, Victoria East Gymnasiums, and Victoria West Gymnasiums.

It does not apply to the Fine Arts Center at this time.

If an elementary school or middle school uses a stadium, high school gymnasium, Aquatics Center, or the District Event Center for an event, the clear bag procedure is still in effect.

Small, hand-sized bags that don't exceed 5.5" by 8.5" in size do not have to be clear.

All bags, including clear, cannot exceed 12" by 6" by 12" in size.

Clear bags may only have ONE logo that is not obstructing to contents. Printed or patterned clear bags will NOT be permissible.

Exceptions to the size requirements and clear bag procedure only apply to diaper bags, medically necessary items, and media personnel equipment (with valid credentials) that have been thoroughly searched prior to admittance.

All bags are subject to be searched.