The weekly COVID count is now available on the VISD COVID website.

Update on events at Stroman Middle School: Stroman parents/guardians, On Tuesday, Nov. 2 an Emergency Medical Service (EMS) vehicle was called to Stroman Middle School/Liberty campus. Privacy guidelines prohibit the district from sharing more information at this time; however it is important to share with you student and staff safety on campus has not ben compromised. Our biggest concern is always the safety and well-being of our students and staff. This was an isolated incident regarding one individual on campus.

Due to the limited food and labor resources, we regretfully will not be able to serve parents, grandparents and family members for the Annual Thanksgiving Lunch on our school campuses on November 17 (elementary) & 18 (secondary). You are welcome to bring in a meal to eat with your child that day.

Please read the latest News posting on the VISD website regarding a social media post that is circulating. This post is NOT related to VISD or either high school campus .

Weekly COVID-19 Update is now available for VISD, visit News on the VISD COVID website.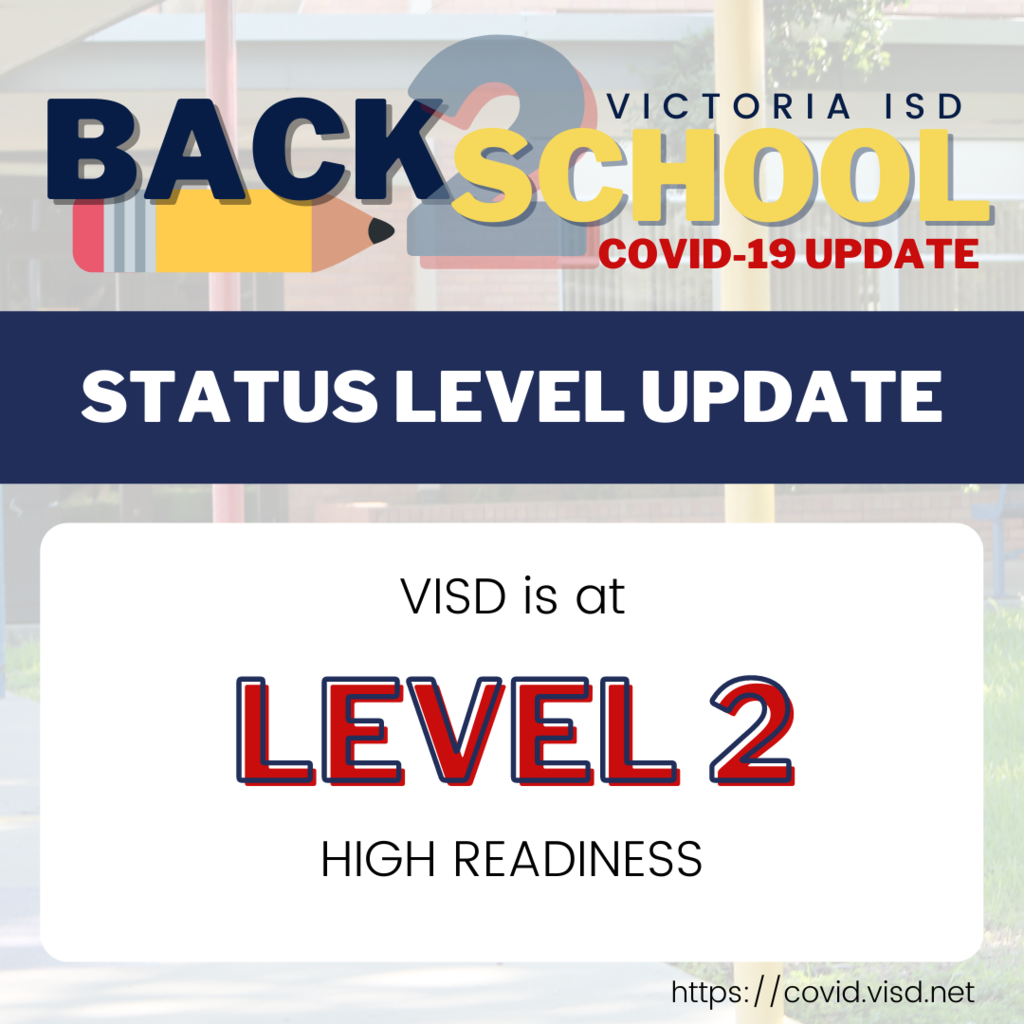 Weekly COVID-19 Update is now available for VISD, visit News on the VISD COVID website.

Victoria ISD has become aware of a student participating in the Battle of the Boot Twitter competition and has posted hateful comments directed towards another VISD student's race. VISD condemns this type of behavior and is actively in the process of getting the tweet removed from Twitter. 𝐓𝐡𝐢𝐬 𝐜𝐨𝐦𝐩𝐞𝐭𝐢𝐭𝐢𝐨𝐧 𝐢𝐬 𝐦𝐞𝐚𝐧𝐭 𝐭𝐨 𝐩𝐫𝐨𝐦𝐨𝐭𝐞 𝐬𝐜𝐡𝐨𝐨𝐥 𝐬𝐩𝐢𝐫𝐢𝐭 𝐛𝐞𝐭𝐰𝐞𝐞𝐧 𝐕𝐄𝐇𝐒 𝐚𝐧𝐝 𝐕𝐖𝐇𝐒 𝐚𝐧𝐝 𝐭𝐡𝐞𝐫𝐞 𝐢𝐬 𝐧𝐨 𝐩𝐥𝐚𝐜𝐞 𝐟𝐨𝐫 𝐡𝐚𝐭𝐞𝐟𝐮𝐥 𝐚𝐜𝐭𝐢𝐨𝐧𝐬 𝐬𝐮𝐜𝐡 𝐚𝐬 𝐭𝐡𝐢𝐬. If the student(s) can be identified, proper consequences will be carried out by administration at the student's school. VISD does not discriminate against any person on the basis of race, color, national origin, gender, religion, sex, sexual orientation, disability, age, or any other basis prohibited by law for admission, treatment, or participation in its educational programs, services, and activities, or employment.

CANCELED- The Victoria ISD Special Called Board Meeting & Team of 8 Training for Thursday, Sept. 30, 2021 have been canceled. To view the agendas, please visit
https://www.visd.net/article/546738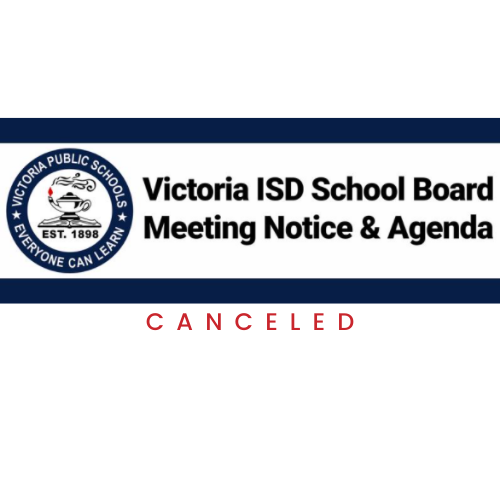 Victoria Virtual School will follow the Victoria ISD schedule for school closure and will 𝐧𝐨𝐭 have classes today.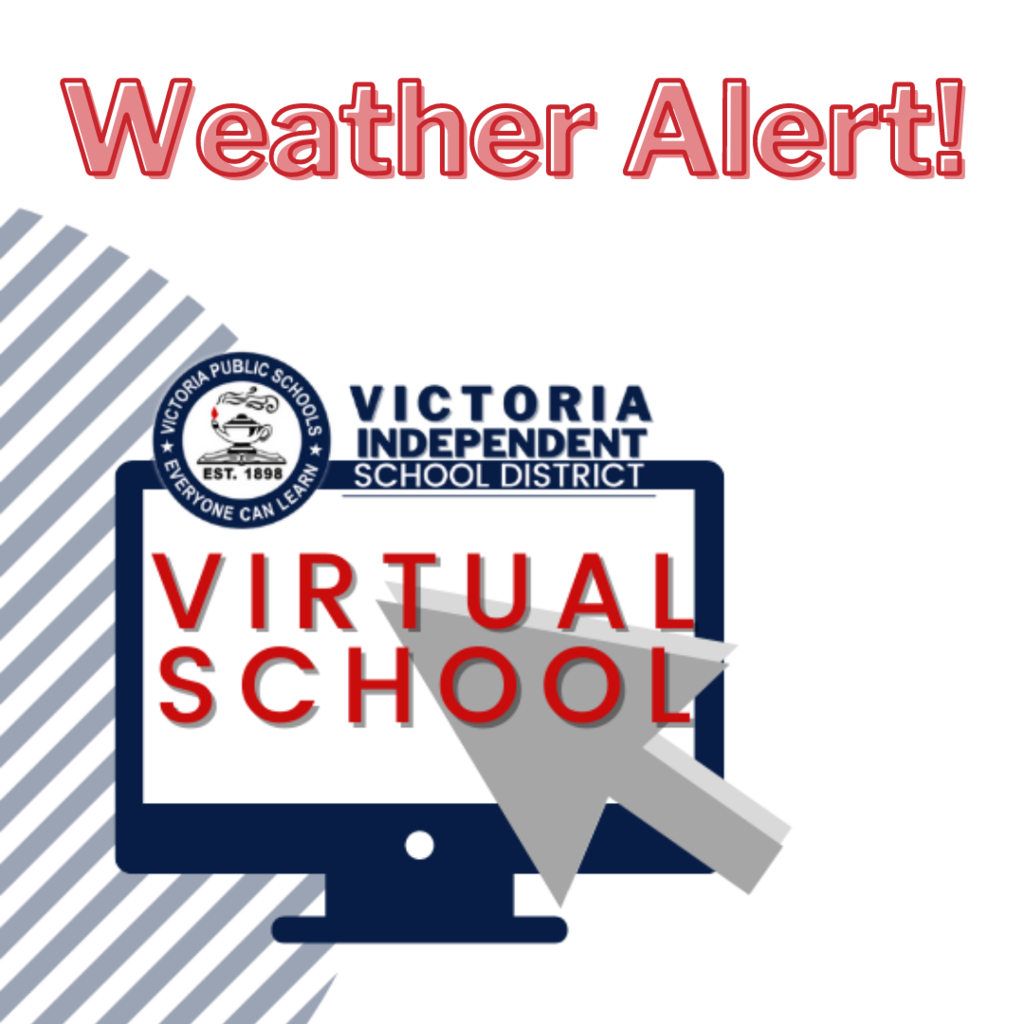 !! Out of an abundance of caution for our students and staff, VISD will be closed Monday, Sept. 13, 2021, due to TS Nicholas. All after-school activities are also canceled.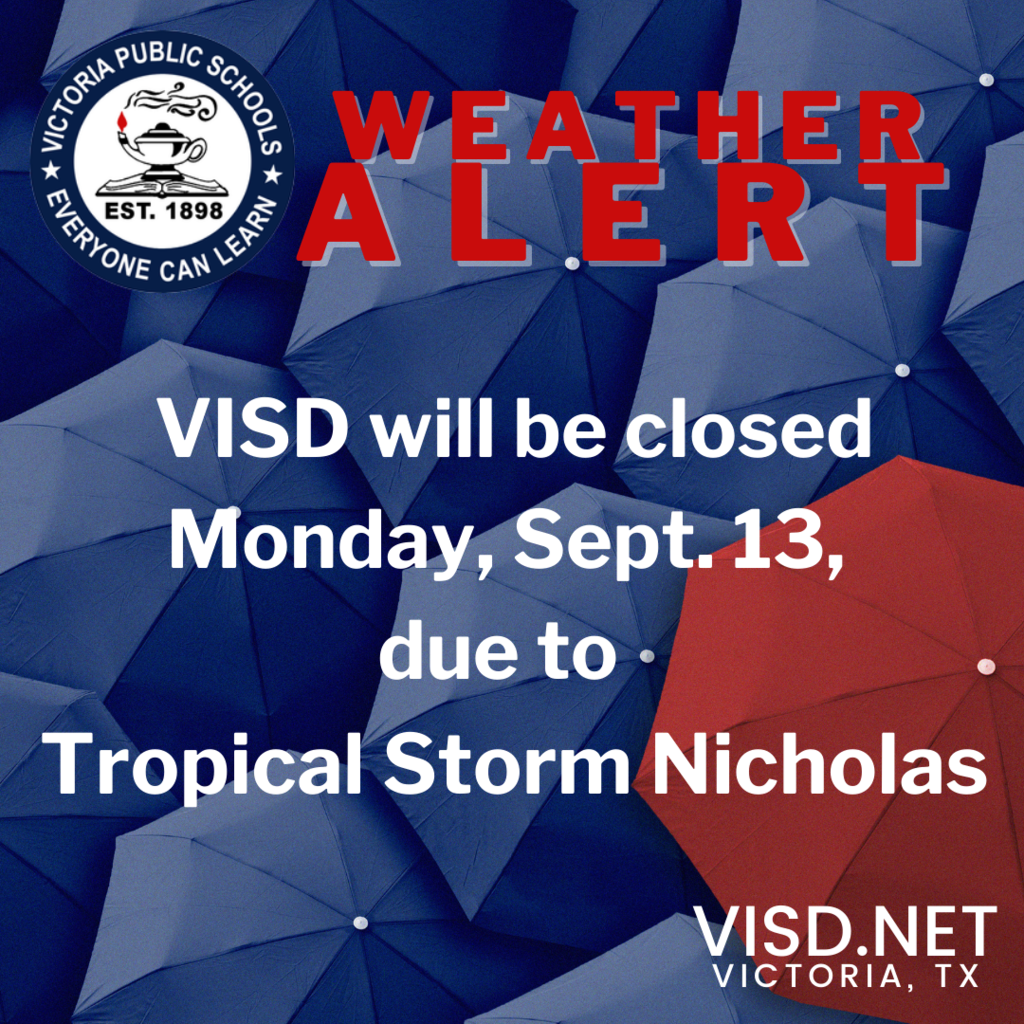 The Weekly COVID-19 Update is now available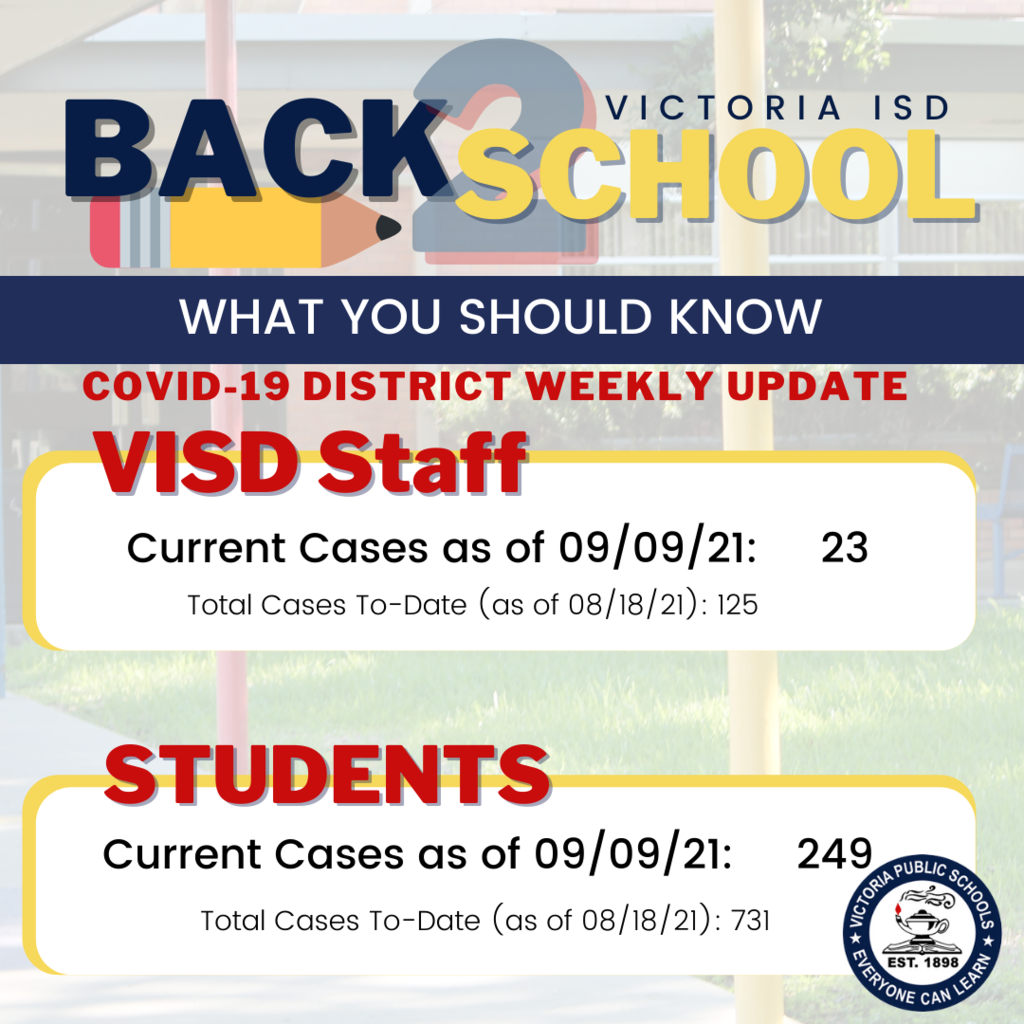 COVID-19 Update for Students who are close contacts! **This new guidance applies specifically to close contacts students because an individual who lives in the same household is COVID-19 positive. Read more, visit
https://www.visd.net/o/covid/browse/248567

𝗩𝗶𝗰𝘁𝗼𝗿𝗶𝗮 𝗜𝗦𝗗 𝗶𝘀 𝗻𝗼𝘄 𝗮 𝗟𝗲𝘃𝗲𝗹 𝟯 𝗼𝗻 𝘁𝗵𝗲 𝗩𝗶𝗰𝘁𝗼𝗿𝗶𝗮 𝗜𝗦𝗗 𝗦𝘁𝗮𝘁𝘂𝘀 𝗟𝗲𝘃𝗲𝗹 𝗳𝗼𝗿 𝗖𝗢𝗩𝗜𝗗-𝟭𝟵. This means that all VISD campuses and facilities will: ● Campuses will begin utilizing partitions during lunch periods. ● Campuses will begin restricting visitors. ● Campuses will begin postponing non-essential events where there will be large gatherings of people. ● Campuses will encourage large-group meetings of students to occur outside whenever possible. To view the full COVID-19 Status Level chart, visit
https://bit.ly/3DWAZxO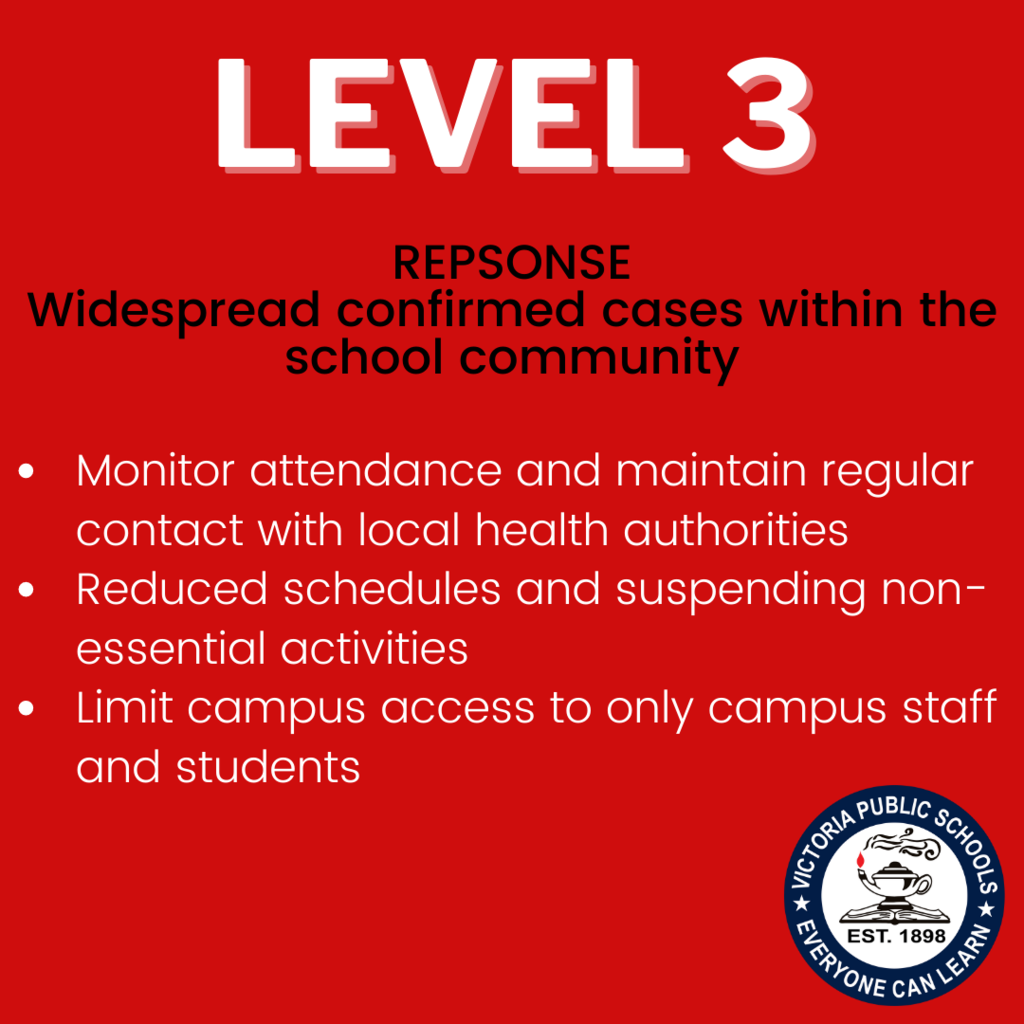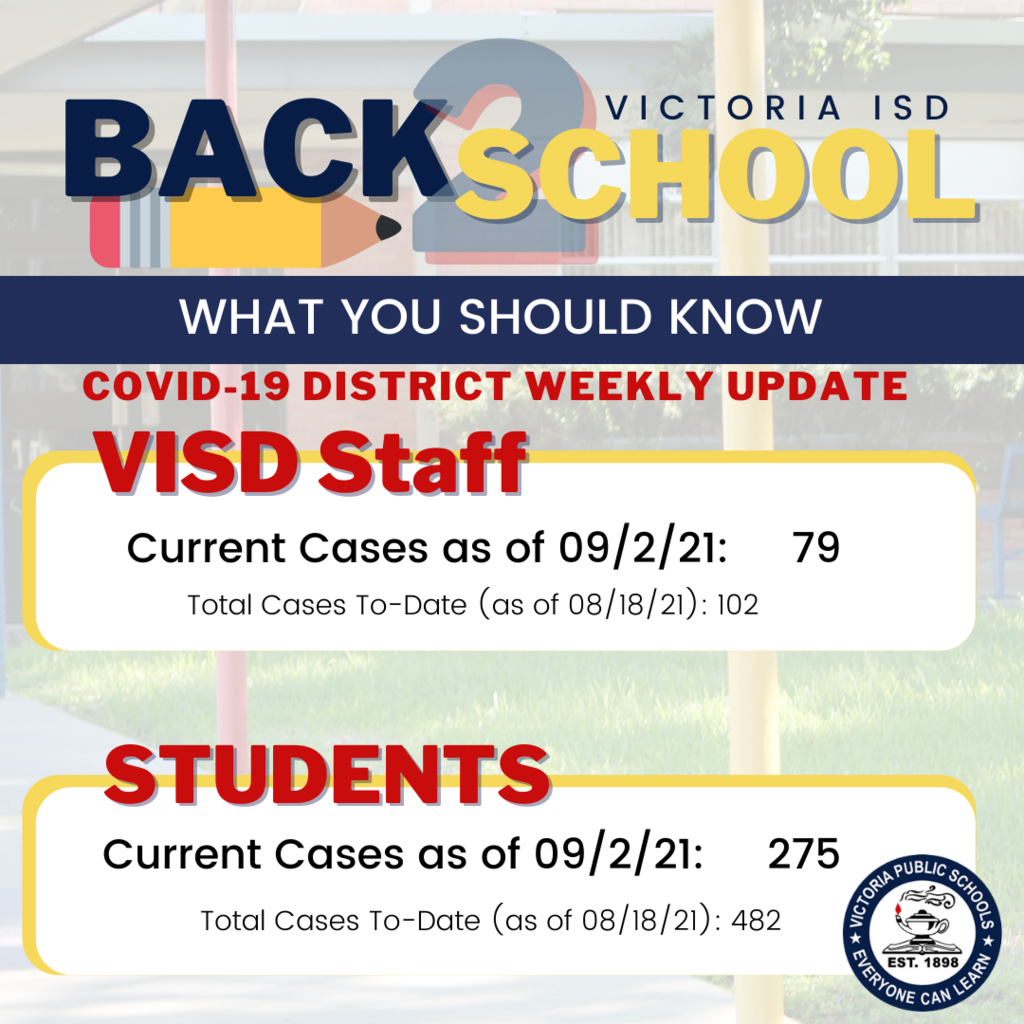 A Letter to the VISD Community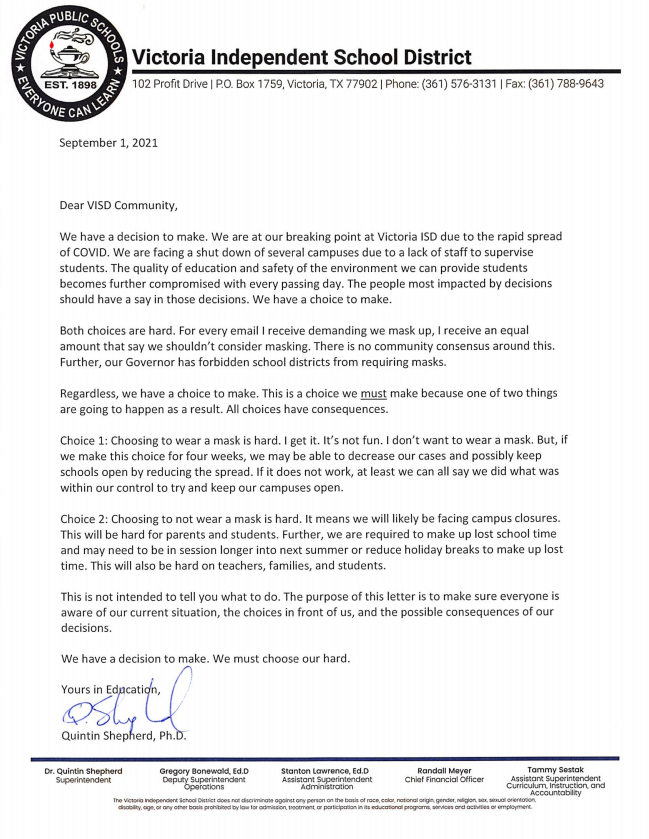 𝐅𝐎𝐎𝐓𝐁𝐀𝐋𝐋 𝐒𝐂𝐇𝐄𝐃𝐔𝐋𝐄 𝐀𝐋𝐄𝐑𝐓!!!! The East JV Football game scheduled for this Thursday 9-2-21 vs Alice at Patti Welder Stadium will now be played at 6 pm at Memorial Stadium, following the conclusion of the West Freshman Game at 4:30.

𝐒𝐜𝐡𝐨𝐨𝐥 𝐌𝐚𝐭𝐭𝐞𝐫𝐬 𝐢𝐬 𝐨𝐮𝐭! Read more about how VISD school board trustees seek continuous improvement in their ever-evolving mission to learn, grow and build improvement in themselves as trustees and for our district, visit
https://bit.ly/3jvPXm8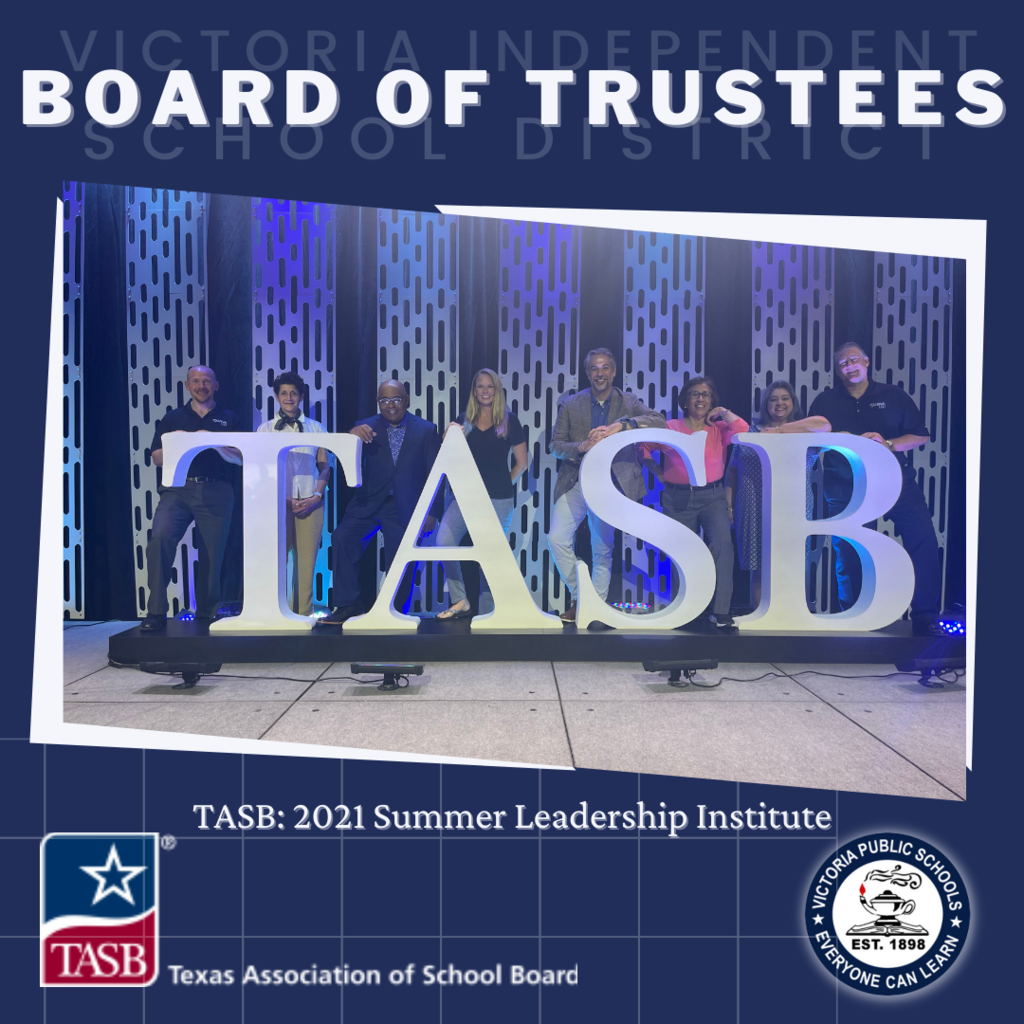 𝐘𝐎𝐔 𝐌𝐀𝐊𝐄 𝐀 𝐃𝐈𝐅𝐅𝐄𝐑𝐄𝐍𝐂𝐄 | 𝟐𝟎𝟐𝟏 The Board of Trustees honored the YMCA of the Golden Crescent at the VISD Board Meeting on August 19, with the You Make A Difference Award for their commitment to partnering with Victoria ISD to help provide students with opportunities to learn, grow and thrive. Did you miss the board meeting? Be sure to catch it on the VISD website, visit
https://bit.ly/3iIqzdd
. The next VISD Board Meeting is set for September 16.