Scan the QR code to submit your application today!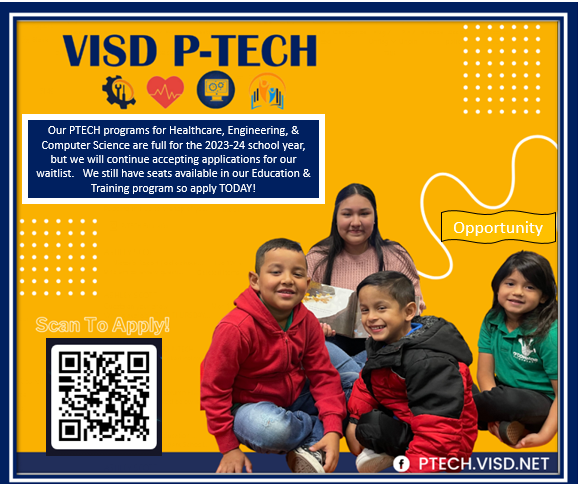 P-TECH - Pathways in Technology Early College High School -- blends high school and college coursework, providing students the opportunity to earn an industry certification and college hours toward an Associate degree or Bachelor's degree, at no cost to the student or his/her family. Industries chosen for P-TECH are in-demand, high-wage jobs in the local community.
VISD's P-TECH EAST Healthcare and Engineering programs are committed to providing a college-going and work-based learning environment where students earn a high school diploma, industry-based certifications, and college credits.
While all students will have access to the program, the core mission of P-TECH is to give prospective first-generation and other students typically underrepresented in higher education a no-cost option to earn a two-year college degree and post-secondary certifications, allowing them to go into the workforce or transfer to a four-year college or university. Students will have a structured environment that will provide adequate support to ensure successful completion of the college courses.
Frequently Asked Questions