Victoria ISD's Accelerating Campus Excellence (ACE) initiative targets three key elements: strong school leadership, best-fit teachers, and high expectations for both students and staff to accelerate the transformation of a school.
The ACE model incentivizes top teachers and principals to work at the district's highest-need schools to ensure that best-fit educators are in the classrooms where they are most needed.
The program will begin in August 2020 at O'Connor Elementary School. Principal, Dionne Hughes, was selected to lead this initiative as the first of its kind in VISD. ACE schools across the state have improved in all areas.
ACE implementation within Dallas ISD and Ft. Worth ISD have resulted in 17 of 18 (94%) multi-year improvement required campuses across both districts going off the state's Improved Required list. Academic performance has increased in core content areas, attendance has improved, and parents feel more positive about their child's school. We look forward to the promising changes to help support the education of our students in VISD.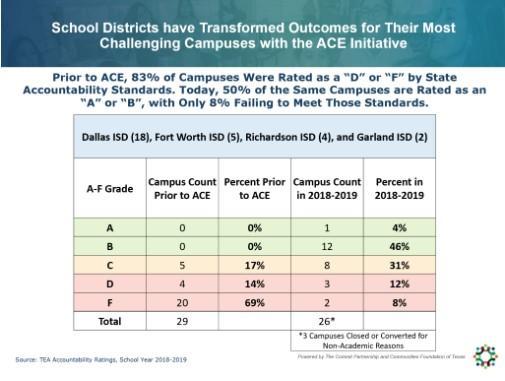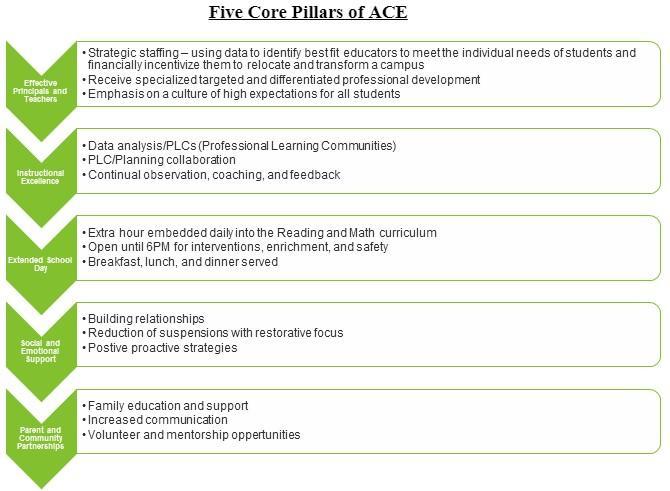 ACE schools offer:
Extended school hours

Enrichment activities after school

Social and emotional learning and development

Discounted uniforms

Breakfast, lunch and dinner served

Transportation home, Monday-Friday, for students who participating in after school enrichment activities

A culture of high expectations

Financial incentives to attract and retain highly effective staff

Specialized training and extra professional development
Students and staff at an ACE school will benefit from:
Extra academic support - teachers will provide additional instruction, with a focus on subjects such as Reading and Mathematics

Resources for character and leadership development

Opportunity to co-build a dynamic and transformative learning environment alongside talented peers
Frequently Asked Questions
For more information about the ACE Program, please contact
Dionne Hughes,
O'Connor Elementary Principal
Phone: 361-788-9572
Email: dionne.hughes@visd.net